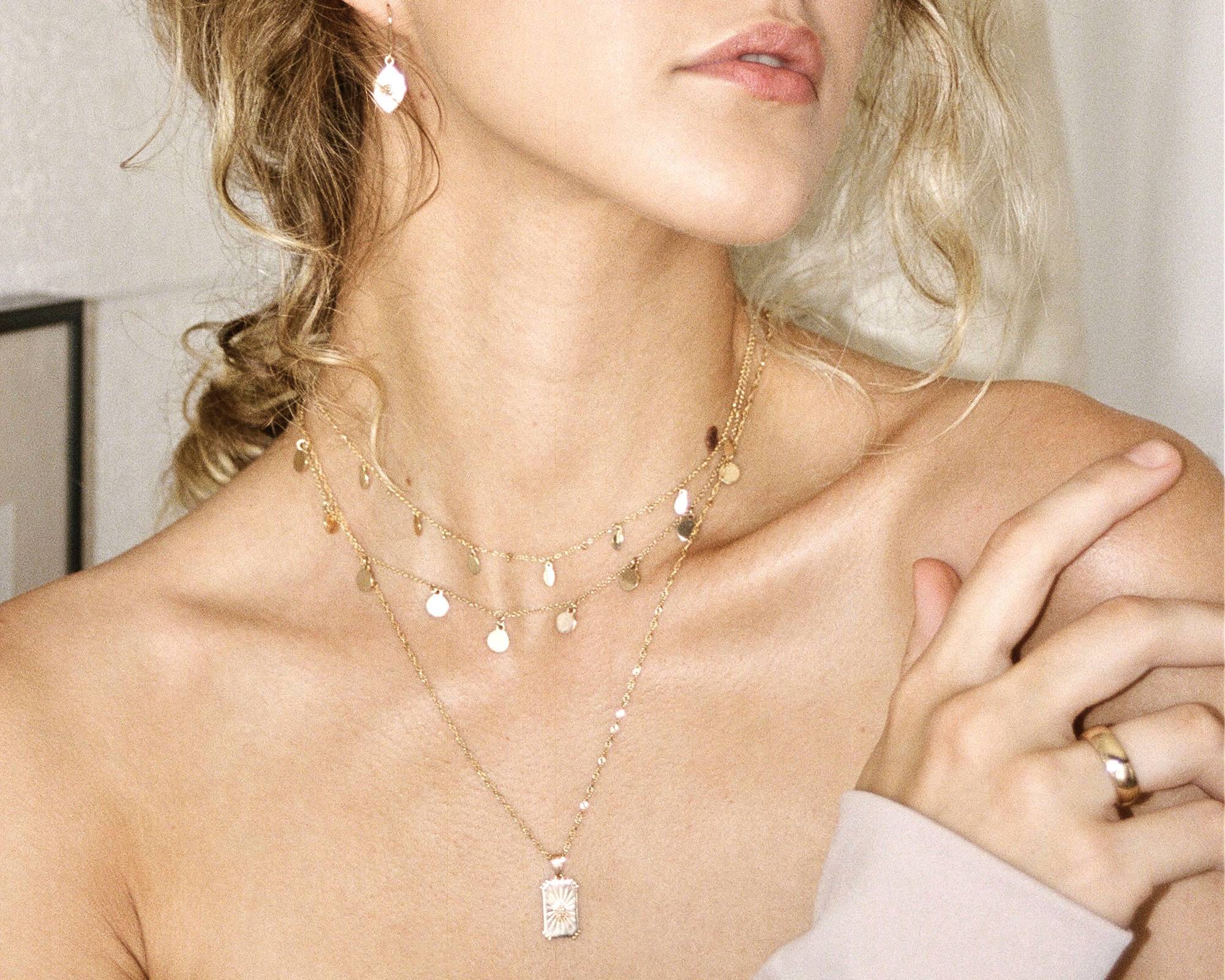 Gold Filled Necklaces
YCL's signature fine necklaces are designed to layer effortlessly with one another. Made from high quality 14k gold fill, our necklaces are made by women, for women. 
Read More
As necklaces are so versatile, they're often used to complete an outfit. There are so many lengths and styles of necklace available that it means it can sometimes be difficult to choose which one to wear with which outfit! A necklace can say a lot about someone's personality. The way to wear a necklace is to draw attention to an area on the body that you would like to accentuate. For example, if you wanted a short necklace, it could emphasize your neck if you feel that is one if your best features.
While it might seem a little strange, your type of neck can also come into consideration when choosing a necklace. For example, the way that the necklace looks against the colour of your skin, how the length of the necklace works against or with the length and width of your neck and the type of look you're after.  Here are some of our best tips to help you choose your necklace!
Step 1: Inspect your neckline
Before making your purchase online or in store, measure the circumference of your neck. Especially if you are considering purchasing a choker. If you don't measure your neck, there is a chance that your necklace won't fit, or may not sit correctly. To measure, use a simple and soft measure tape around your neck and hold it close to the skin. Note the measurement and ensure you remember it during the purchase. Here are a few things to remember:
Add two extra inches for chokers.
Add 4 inches to give you breathing room.
Even with a delicate necklace, extra space leaves you enough room to breathe.  Now you need to evaluate the length and width of your neck. For those with long, slender necks, short chains work the best. For short and wide neck, choose something longer.
Step 2: Evaluate your body type and face shape
A jeweled necklace will make more sense if it fits right with your body and shape of your face. If you are short, the 16" to 20" long necklaces are perfect. However, those who are taller can make any length necklace work. Choose a necklace that brings out your best features – whether that be your skin tone or hair colour.  Don't forget to factor in the shape of your face. The length of your necklace will help bring out your facial features. For a longer face, something between 16 and 18 inches will do well, and for those with heart-shaped faces, try chokers.
Step 3: Coordinate with the length of your dress
Collars and chokers are the best for open neck-clothing. They emphasize the neck area and that will give you leverage for your appearance. Check out our fine collection of gold earrings, gold hoop earrings & choker necklace today.
- Less